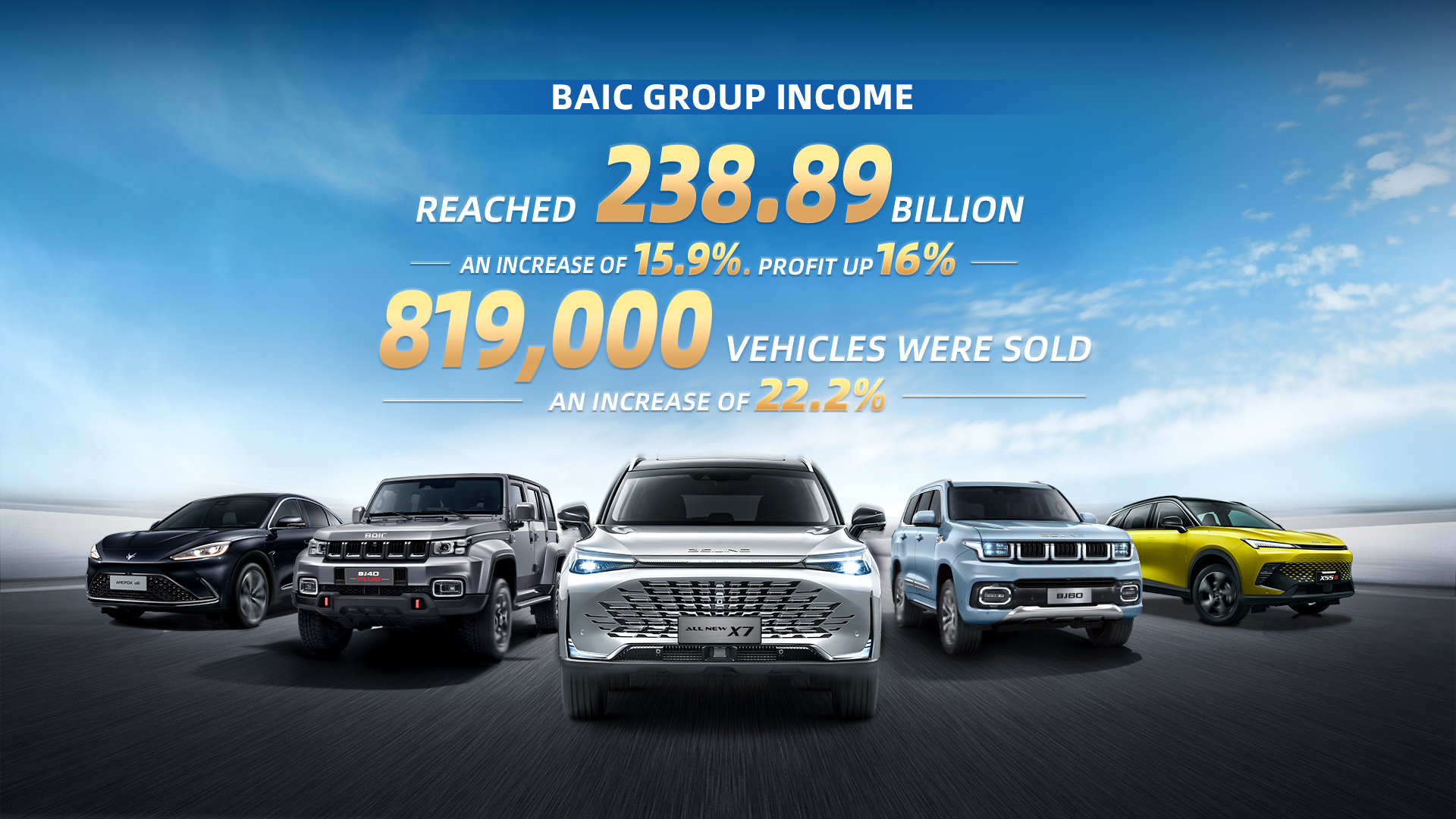 Recently, BAIC Group released its half-yearly financial performance, showcasing impressive growth and success in the first half of 2023. The company achieved an operating income of 238.89 billion yuan, marking a significant year-on-year growth of 15.9%. The total profit also increased by 16% compared to the previous year. The production of complete vehicles reached 816,000 units, with a year-on-year growth of 24.1%, while the sales of complete vehicles reached 819,000 units, showing a year-on-year growth of 22.2%.
In terms of independent passenger vehicles, BAIC Motor witnessed substantial growth, with sales soaring by 108.4% year-on-year. Notably, gasoline vehicles, electric vehicles, and off-road vehicles increased by 204.9%, 63.3%, and 32.5% respectively. Similarly, BAIC New Energy brand, Arcfox, achieved a noteworthy year-on-year sales increase of 81.97%. BAIC Group also excelled in overseas markets, with exports of passenger vehicles surging by 235% year-on-year.
Regarding joint venture passenger cars, BAIC Group stated that Beijing Benz and Mercedes-Benz sales profits exceeded the expectation; Hyundai sold 123,300 vehicles in the first half of the year, a year-on-year increase of 13%. Notably, the core models of the Elantra, ix35 and Tucson surpassed cumulative sales of 100,000 units.
In the commercial vehicles sector, Foton recorded a robust performance, selling 305,000 vehicles during the first half of the year, achieving a year-on-year increase of 21.5%. Among them, the new energy business increased by 110.7% year-on-year, and the global production and sales exceeded 11 million vehicles. Foton also demonstrated strong export performance, with a year-on-year increase of 30.8%, exporting 60,000 vehicles.
In addition, the external market orders for the parts sector of BAIC Group exceeded 10 billion yuan. The service trade sector entered the top ten of the "China Automotive Dealer Group Top 100" for the first time, and the overseas shipping volume of logistics exceeded 15,000 vehicles.
To foster innovation and development, BAIC Group plans to invest more than 50 billion yuan in research and development over the next five years. Noteworthy launches during the first half of this year include Arcfox's world's first intelligent family car, KAOLA and the Arcfox αS forest edition model. The Arcfox αS edition opened smart driving navigation assistance in multiple areas. Beijing Benz introduced new GLC and EQE SUVs, with the first EQE SUV exported for trial installation and shipment to Germany. Hyundai launched the intelligent home SUV MUFASA. Foton introduced the "Aumark I Blue" technology brand, and BAIC Trucks has put China's first heavy truck digital twin smart factory(DT@ifactory) into production.
Regarding low-carbon green development, BAIC Group announced that Fujian Benz achieved carbon neutrality in production, becoming the first production enterprise in Fujian Province to use 100% green electricity. Currently, BAIC Group has 17 national-level green factories, 2 national-level green supply chains, and 3 A-level environmental performance enterprises. The company aims to build zero-carbon factories by 2025.